Northwest Raven
Ultimate Travel Flute

First in a NEW series of Travel/Backpack Flutes

Finest Quality, Hand Made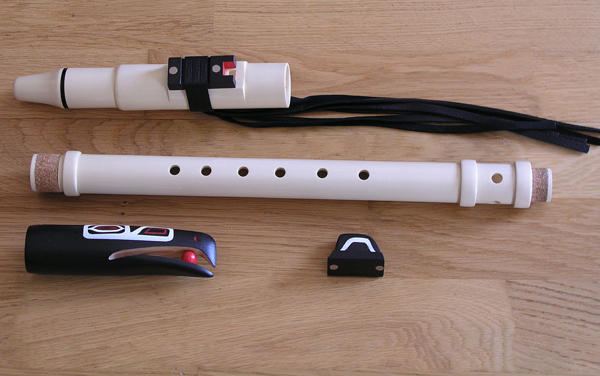 Over the years I have heard many stories of people playing their flutes in what they considered to be a secluded place only to find a small audience had gathered to hear them play. Often the flute they are playing is a small, simple in design instrument. When these stories are told to me I sense the general feeling the player has is that they wished they had one (or more) of the more 'fancy' flutes with them that they had left at home or in the hotel room for the audience to see. To help resolve this situation I have designed the Ultimate Travel (or Backpack) Flute.

Similarly, many travelers do not enjoy the hassles of carrying a hard flute case on board an aircraft and trying to fit it into the overhead luggage compartments can be a nightmare. This instrument, in its custom made soft flute roll, will fit comfortably inside your briefcase, carry-on luggage or backpack where it will be available to you when you reach your destination. Without rushing, the flute is easily assembled in about 30 seconds.

So, next time you are out and about playing your flute in what you think is a secluded spot and an audience appears, you will have a flute for them to admire even more than your simple backpack flute.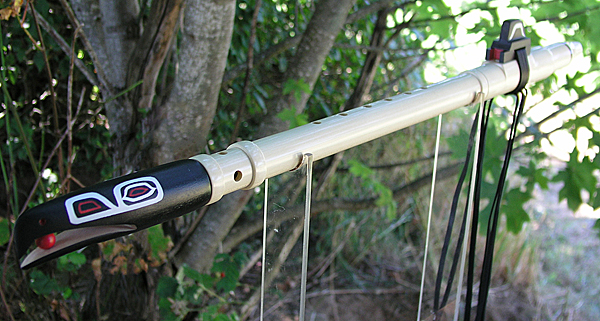 Click on image above and below for larger picture.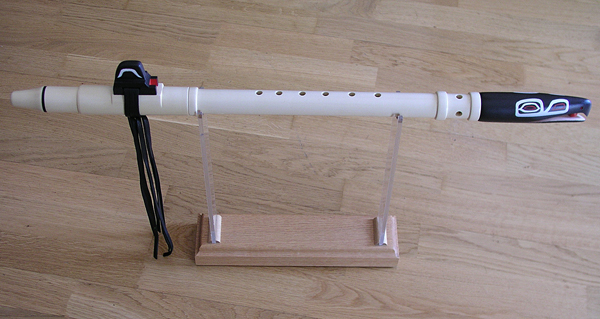 Created from a solid billet of 'Winter cut' Holly each part has been designed and crafted to fit perfectly. As with all professional woodwind instruments the cork seals have been inset into the ferrule for total durability.

The upper section of the block (bottom right of top photograph) affixes to the base of the block using special magnets and will remain in place until you decide to remove it. The total design of the block has been created so that the two halves are perfectly self positioning.
~~~~~~~~~~~~~~~~~~~~~~~~~~~~~

The story behind the creation and design of this North American flute.


Raven steals the sun
This is an ancient story told on the Queen Charlotte Island
s
and includes how Raven helped to bring the Sun, Moon, Stars, Fresh Water, and Fire to the world.
Long ago, near the beginning of the world, Gray Eagle was the guardian of the Sun, Moon and Stars, of fresh water, and of fire. Gray Eagle hated people so much that he kept these things hidden. People lived in darkness, without fire and without fresh water.
Gray Eagle had a beautiful daughter, and Raven fell in love with her. In the beginning, Raven was a snow-white bird, and as a such, he pleased Gray Eagle's daughter. She invited him to her father's longhouse.
When Raven saw the Sun, Moon and stars, and fresh water hanging on the sides of Eagle's lodge, he knew what he should do. He watched for his chance to seize them when no one was looking. He stole all of them, and a brand of fire also, and flew out of the longhouse through the smoke hole. As soon as Raven got outside he hung the Sun up in the sky. It made so much light that he was able to fly far out to an island in the middle of the ocean. When the Sun set, he fastened the Moon up in the sky and hung the stars around in different places. By this new light he kept on flying, carrying with him the fresh water and the brand of fire he had stolen.
He flew back over the land. When he had reached the right place, he dropped all the water he had stolen. It fell to the ground and there became the source of all the fresh-water streams and lakes in the world. Then Raven flew on, holding the brand of fire in his bill. The smoke from the fire blew back over his white feathers and made them black. When his bill began to burn, he had to drop the firebrand. It struck rocks and hid itself within them. That is why, if you strike two stones together, sparks of fire will drop out.
Raven's feathers never became white again after they were blackened by the smoke from the firebrand. That is why Raven is now a black bird. (Courtesy of Wikipedia)

Specifications

Wood Species
(Solid Bore) 'Winter cut' Holly
End Caps
Northwest Raven head
Banding
Ebony
Block/Fetish
Hand painted (Light weight) Basswood. Self positioning magnetic fetish. (See more)
Other Adornments
Hand painted Northwest Raven spirit end in (Light weight) Basswood
Feature
Breath of Life Airway System (....more)
Tuning
Concert at 72 degrees. A4=440 Hz.

6 hole Pentatonic 1.4 Octaves - Traditional Modes 1 & 4 (Contemporary Tuning).

Also available
Please request by e-mail;

5 hole Pentatonic 1.4 Octaves - Traditional Modes 1 & 4 (Contemporary Tuning).

6 hole Pentatonic 1.4 Octaves - Multimode Tuning.

6 hole Diatonic 1.4 Octaves - with thumb hole for upper octave.

6 hole Diatonic 1.4 Octaves - without thumb hole. Over-blow for upper octave.

All flutes can be created in Verdi tuning (A4=432 Hz).

Click here for tuning charts
Price: $875.00
plus Shipping and Insurance for Contigious United States.

All other states and International Orders:
Contact us for shipping and insurance costs.