Play Along Series
Waking the Spirit of Christmas
For Native/North American Flute
Song Book with CD of Backing Tracks for every key of Native/North American Flute
(Meeting the demand of Flute Players Worldwide for something they can play their flutes along with!)
Orchestral Strings Accompaniment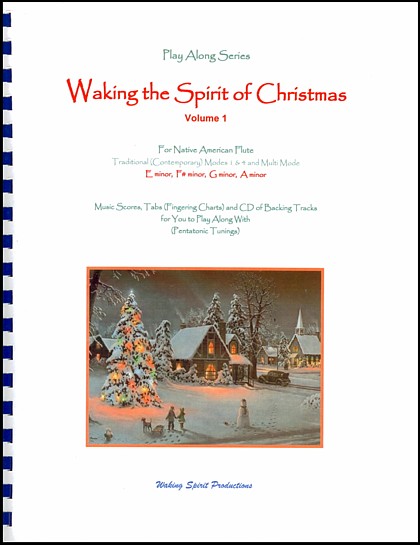 You know how it is! You are playing away on your flutes wishing there was something a little extra you could add to your performance. Well, now you have the opportunity to own this fine collection of seven popular Christmas tunes (backing tracks) that you can play your flute to. The CD that comes with this set has been professionally recorded for high quality (digital) playback on your CD player, home theater system player or computer.

Each tune on the CD has been recorded in different keys to match your E minor, F# minor, G minor and A minor flutes so all you need do is select a flute from the four different keys and play. There is also a track for each tune that demonstrates the melody line you will need to play to match the backing track you chose to play.

All the backing tracks have been specially recorded to sound like a stringed orchestra playing behind you and to make it easy for you there is a musical count in so you will know exactly when to start playing your flute.

| | | |
| --- | --- | --- |
| Sample of Flute being played with Backing Track. | Demonstration of Melody Track played on Piano. | Actual Backing Track to Play your flute to. |
Its really is all so very easy. Just find the tune you wish to play from the seven, clear and large printed fingering charts in the book, listen to the demonstration track, select the key you wish to play in and play away. You will sound like a professional being backed by a beautiful, stringed orchestra.

All fingering charts are produced for conventionally tuned flutes (modes 1 & 4) and for multi-mode tuned instruments.

| | |
| --- | --- |
| | |
1....... Silent Night

2....... God Rest Ye Merry Gentlemen

3....... Hark! The Herald Angels Sing

4....... O Christmas Tree

5.. .....The First Noel

6....... O Come All Ye Faithful

7....... We Three Kings of Orient Are

All the CD music has been professionally created,
arranged and recorded by flute maker Vance Pennington,
of Waking Spirit Flutes', at his Burning Tree Recording Studio, Warren, Oregon, USA.

'Amazing Grace - Play Along Series' is published by Waking Spirit Productions.

$29.00